Read the opening pages of The MacGuffin.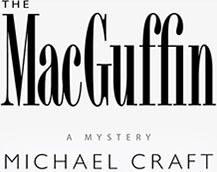 Copyright © 2011 by Michael Craft.
All rights reserved.
No part of this book may be used or reproduced in any manner whatsoever without written permission, except in the case of brief quotations embedded in critical articles or reviews.
This is a work of fiction. The characters in this story come from the author's imagination, and any resemblance to actual persons, living or dead, is purely coincidental.
Design and typography: M.C. Johnson
Front cover photo: Jim Harper
Author's photo: Questover Press
Library of Congress
Cataloging-in-Publication Data
Craft, Michael, 1950–
The MacGuffin / Michael Craft
ISBN-10: 0615499716
ISBN-13: 978-0615499710
First Questover Press paperback edition: August 2011
Click through the pages on your computer. Swipe on your phone or tablet.